Welcome to the Lana Thai Villa
Our accommodation is just north of Chiang Mai and 30 minutes from its international airport. The Villa is designed in the Lana Thai style of Northern Thailand and is also located in a magnificent Mae Rim resort situated at the entrance to the Mae Sa Valley. This is the gateway to many of Chiang Mai's best attractions. It offers rooms in some of the best villas in Thailand. This is one of the finest examples of luxury Chiang Mai accommodation.
Sharing the exceptional, and exquisitely landscaped estate of the resort, are Private Residences in several whimsical mansions. They are reminiscent of the ancient kingdom of Lanna. Carefully crafted against a backdrop of lily ponds and rolling rice terraces.  Enjoying spectacular views of lush mountain greenery.
In this setting is the Lana Thai Villa, a unique luxury resort accommodation consisting of 3 independent suites. They occupy the upper floor of the elegant Private Residence 7 and therefore enjoy extensive views of the entire resort. The suites are offered on a bed & breakfast basis.  Guests also enjoy some access to the facilities of the Four Seasons Thai resort and spa, a leading Lanna Chiang Mai hotel. A luxury vacation accommodation offering bed and breakfast with a unique twist.
Services
Services offered exceed those of the finest Chiang Mai boutique hotels including 24 hour front desk service, daily housekeeping and the Lanna Spa. 24 hour room service is also available. Dine at the ' Khao ' , ' North ' or ' Rim Thai Kitchen ' restaurants. Enjoy the sunset at the 'Ratree' bar;  perhaps you would prefer to make your selection from the "in Residence" menu. Have your meals delivered to your suite. A private swimming pool is also available adjacent to the villa for the use of 'The Residences'.
Our villa has a Private Butler and Housekeeper in residence. This is an even more exceptional opportunity for those seeking the finest Chiang Mai accommodation. They will help to familiarize our guests with all aspects of the resort's facilities and also assist with any other arrangements required to ensure total enjoyment during your stay.
It has a unique location at the gateway to the Lanna valley north of the city. Enjoy the amazing facilities of the Four Seasons Thai style luxury resort and spa. This is also the perfect fit for people searching for Chiang Mai golf resorts, a Chiang Mai health spa or a luxury resort in Chiang Mai. Its 3 independent but adjacent suites also make it the perfect fit for larger families or private groups traveling together.
Luxury Social Distancing after Covid-19
You might consider reserving all the accommodations for a luxury social distancing experience. The resort is also a haven for nature and the surrounding area is a favourite for bird watching and other nature activities. Queen Sirikit's Botanical Gardens are just a few minutes away. There are so many safe and enjoyable things to do. We offer one of the healthiest and most relaxing and enjoyable destinations in this post Covid-19 travel environment.
Please note: Lana Thai Villa is a private residence which operates
completely independently from The Four Seasons Chiang Mai.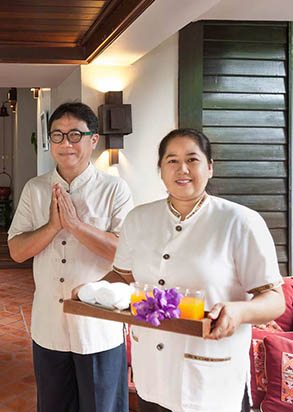 2020
RECOGNITION OF EXCELLENCE
HotelsCombined
Paradise on earth
"There are not enough words to describe our good time at Lana Thai Villa. Michel, Kun Nui and everyone: Thank you very much. I have been fortunate to have stayed in excellent hotels all over the world, Lana Thai Villa is really great. The garden of the hotel and the environment of the four seasons are excellent. The villa (Chinese style) is fantastic. The room was large and had everything we needed. Looking forward to coming again soon!"
This is your chance to enjoy the luxury of the Four Seasons Chiang Mai resort and spa. A private residence situated right beside the main hotel. Our guests can also enjoy some of the wonderful facilities of the resort. Wine and dine at the various restaurants and bars. Stroll through the incredible beauty of the landscaped grounds.
Additionally, your very own private butler is on hand to assist you. Whether you want to book a treatment at the Lanna Spa or need to make a reservation at the ' Khao ' , ' North ' or ' Rim Thai Kitchen ' restaurants he will be there to make all your planning a simple delight.
Not only are our luxury suites furnished to the highest standards but they also represent very good value.
Health Retreat Thailand
If you are searching for a health retreat in Thailand then you will enjoy the yoga and meditation classes. There is a well equipped gym as well as a supply of bicycles to tour the local lanes and villages. Along with the world class spa this is one of the best Thai resorts to enjoy a healthy and relaxing holiday.
Benefits of staying at a Thai villa
If you are looking for luxury Chiang Mai accommodation you will have considered the many hotels in the area. You will probably have noticed that there are many different areas to choose from. Our Thai villa is situated a short ride north of the city away from the hustle and bustle of downtown yet within easy reach. And you will find few spa resorts in the area to match the 4 seasons Chiang Mai. This Lana hotel resort oozes northern Lana Thai style.
So what makes staying in one of the world's most wonderful resorts even more extraordinary? Staying in a private villa. We furnished our suites with Objet d'art carefully selected during our travels in South East Asia. We have themed them in Chinese, Bali and Burmese traditions. Add to that your own private butler and you can soon see that this is a very different experience from staying at even 5 star luxury hotels in Chiang Mai.
Incredible luxury combined with world class facilities and attentive personal service. Staying at Lana Thai Villa will therefore be a truly memorable experience. We look forward to welcoming you.
Group and Family Accommodation
Are you traveling in a group or with an extended family? It can be hard to find suitable accommodation when you are traveling in a group. You will probably have focused on villas in Thailand for rent. And they are a good option. We can offer you 3 luxurious suites that are ideal for up to eight people traveling in style. Maybe you would benefit from booking the entire villa. Ensure social distancing for the safety and enjoyment of your family or group.
If you have any questions please do not hesitate to contact us.